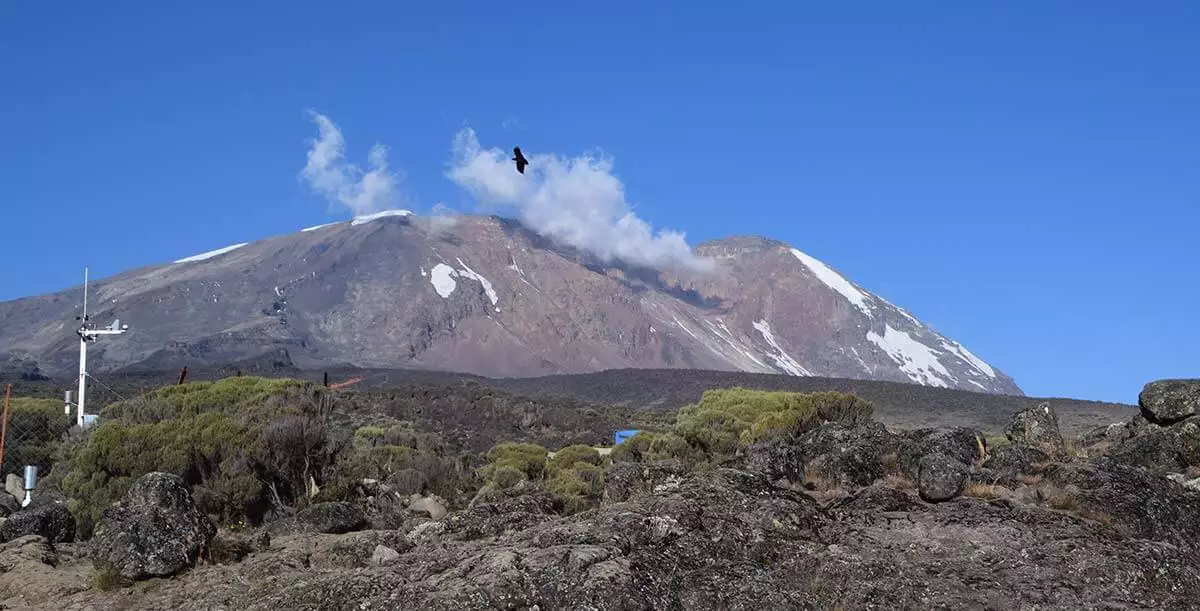 Mount Meru is a dormant stratovolcano located 70 kilometres west of Mount Kilimanjaro in the country of Tanzania. At a height of 4,562.13 metres, it is visible from Mount Kilimanjaro on a clear day, and is the fifth-highest mountain in Africa, dependent on definition.
Mount Meru is located just north of the city of arusha, In the arusha region of Tanzania. It is the second highest mountain in Tanzania after Kilimanjaro. The Momella route which start at momella gate is used to climb mount meru.
Itinerary
Day 1 : Early in the morning after Breakfast, you will be picked at your hotel and drive to Momella gate(1500m) for registration and start the climbing to Miriakamba hut (2514m), It takes 4 to 5 hours and covers 6 kilometers. Dinner and overnight at Miriakamba hut.
Day 2 : After breakfast, you will start your hike towards saddle hut(3560m), the hike will get steeper this day,I takes 3 to 4 hours and covers around 7 kilometers,Dinner and overnight at saddle hut.
Day 3 : This is the summit day, You will start the hike around midnight to the peak(4566m) , after reaching the peak, you will take photos and descend down to Miriakamba hut for dinner and overnight.This entire walk takes 12 to 14 hours and covers around 19 kms.
Day 4 : This is the last day, after breakfast you will start your hike down the Mountain to Momella gate, The hike takes 3 hours, The vehicle will be waiting for you at the gate to transport you back to the hotel in Moshi town.
Mount Meru Climb
(Daily Walking times)
| Day | Hut accomodation | Hours | Kilometres |
| --- | --- | --- | --- |
| 1 | Momella Gate (1500m) – Miriakamba Hut (2514m) | 4-5 | 6 km |
| 2 | Miriakamba Hut (2514m) – Saddle Hut (3560m) | 3-4 | 7 km |
| 3 | Saddle Hut (3560m) – Socialist Peak (4566m) – Miriakamba Hut (2514m) | 12-14 | 19 km |
| 4 | Miriakamba Hut (2514m) – Momella Gate (1500m) | 2-3 | 13 km |
Prices / included Services
Pricing for the Mount Meru Climb 3 Days (per person)
1 Person
2 Persons
3-4 Persons
5-6 Persons
7 Persons and more
1150 USD
950 USD
910 USD
870 USD
830 USD
Pricing for the Mount Meru Climb 4 Days (per person)
1 Person
2 Persons
3-4 Persons
5-6 Persons
7 Persons and more
1250 USD
1100 USD
1050 USD
1000 USD
950 USD
Prices includes
1 night accommodation in Moshi before the trekking( bed and breakfast)
Airport transfer on arrival and during departure day
All entrance fees to Kilimanjaro National Park
3 meals per day during the climb (breakfast, lunch and dinner every day)
Drinking water during the entire climb
Transport to the starting point of the climb and back on the final day
Salaries for the entire Team
All camping facilities (tent, dining tent, cooking facilities)
Private tragbare Toilette
Prices does not include
Alcohol and soft drinks
Sleeping bags
Flights
Visa fees
Tips (10% of the amount paid for Kilimanjaro Climb)
Travel insurance