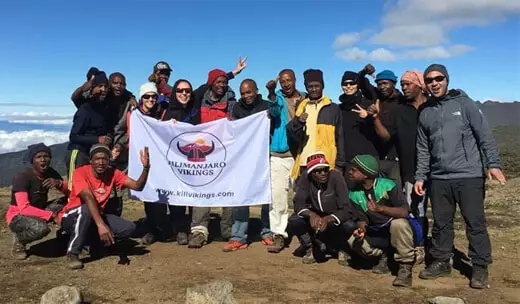 There are many ways to describe Kilimanjaro Vikings but the one that says it best is "personal attention."
Kilimanjaro Vikings is made up of a group of experienced guides, working together to organize mountain treks and safaris. They climb with their clients, thereby guaranteeing the safest and most enjoyable trek possible at a great value. The Guides takes a personal role in making sure the clients are well taken care of and getting everything they expect and deserve. They personally organizes each adventure…whether  to the bush, to the mountains or to the beach. As an experienced mountain guide themselves, They Guide the clients on the mountain and in the bush. Their brand of customer service is one that comes from having worked with and been trained by some of foremost outfitters in the region. They have honed their craft and it shows.
Equipment
Our equipment is some of the best that money can buy. Our tents and camping gear are made by such manufacturers as North Face, Mountain Hardwear and Vaude. All of our equipment is meticulously maintained and replaced on a regular basis.
Vehicles
Our trucks are late model, clean and well maintained Land Cruisers. Each has been converted for safari purposes and have pop up roofs, bucket seats and all of the interior amenities to make your drive through the national parks safe, comfortable and memorable.
Training
All of the company's crew, including driver guides, mountain guides, chefs and porters undergo training on a regular basis. With your safety and care in mind, we provide our staff with the latest instruction in first aid, languages and proper customer care. So, join us for an adventure you will cherish forever and know that your satisfaction, safety and comfort are our number one concern. If you'd like to get in touch, email us or call us here in Tanzania.
Why Choose Kilimanjaro Vikings?
1) Safety and Experience
Our number one priority is to make sure our clients have the safest adventure possible. According to our long experience on both mountain and wildlife safaris, our Kilimanjaro Vikings team promises their best to provide quality service and guidance during adventure travel.
2) Flexibility
Kilimanjaro Vikings is flexible when it comes to different safari options (camping safari and lodge safaris). We are able to arrange your adventures according to your wishes and it doesn't matter whether you have selected a camping or a lodge safari, you will still have an amazing experience.
3) Community Involvement
Kilimanjaro Vikings understands the importance of community involvement. We donate some of profit made during the climb or safari to various orphans home around Kilimanjaro Region. Light in Africa which has more than 200 orphans is one of the projects that we give financial support.
4) Our Kilimanjaro Team
All of our mountain guides are among the best in the area. They have all what it takes to make sure you get to the top and back safely. All Kilimanjaro Vikings guides have undergone extensive training and ongoing training and have a long experience with the mountain.
5) Social and Environmental Responsibilities
Without the protection of the environment, there is no future in tourism and the existence of Kilimanjaro Vikings. We take every precaution to protect the land that has blessed us in so many ways.