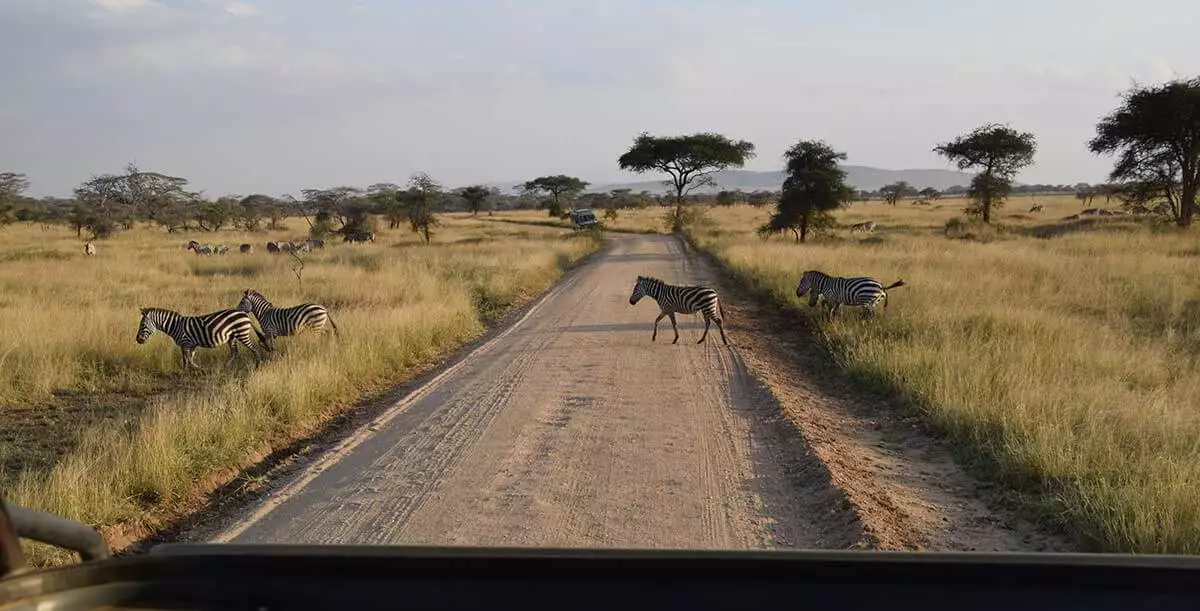 When you are in the mood to witness the exotic wildlife in Tanzania, we arrange safe African luxury wildlife safaris for you. Tanzania features the best wildlife parks in Africa, some of which are Ngorongoro Crater, Tarangire National park, Lake Manyara national park,Arusha National Park, Serengeti national park, Mikumi national park and many other small national parks. Here, you can have an amazing experience of the most spectacular landscape and sceneries while you also get the chance to photograph wildlife living in the densest of protected areas. As a keen mountaineer or trekker, the Northern Safari Circuit even gives you a close chance to be on Mount Kilimanjaro, the highest African mountain and the most adventurous for the brave.
Although our African wildlife safaris tours include Ngorongoro and Serengeti, you can choose to go for a climb on Mount Kilimanjaro. As one of the leading African safari tour companies, we not only tailor our African wildlife safari tours per your budget and travel plans but also accommodate tours to attractions like the towns of Moshi and Arusha. Halfway between these towns is the major international airport of Tanzania, the Kilimanjaro International Airport (KIA). When you want to go for the best wildlife safari in Africa-+
, you can easily approach them from these towns near to the Northern Safari Circuit.
With Kilimanjaro Vikings, there are no worries. We offer the most convenient lodge and camping safari packages, as well as tourist-friendly transportation in Tanzania. From basic to luxury lodges, simply make your choice. We have a well-maintained fleet of Toyota Land Cruiser 4wd vehicles with viewing roofs that are essential during safari tours. If you want a window seat, be sure to get it. We also have trained chefs and multilingual guides to meet all your safari tour needs. Whether you wish to enjoy a hot air balloon safari in Serengeti or a walking safari with an armed park ranger, we make it possible if you are ready to go.
Making
Tanzania wildlife tours
even more impressive
This is your chance to head off with more fun and comfort. While Tanzania is a natural wonderland waiting to be explored, our luxury African safari packages will take you on an unforgettable journey to witness the beauty and wonder of Africa in all its wild glory. With a passion for leading tours in Tanzania, Kilimanjaro Vikings knows how to arrange your trip for the ultimate safari experience.
Spotting the Big Five on your
wildlife safari in Africa
Are you in quest of the Big Five? No, not the hallmark features of a luxury safari tour (though those are here, too). We're talking about the Big Five game animals: the African buffalo, lion, leopard, elephant, and rhino. There's no better place to marvel at them than on African safari tours with Kilimanjaro Vikings.
Our expert guides will take you to out-of-the-way places and into genuine wildlife-spotting territory. With a bit of luck, you'll be able to tick all five of these iconic animals off your bucket list in one trip.
But even if we don't spot them all, other wildlife on display will make your experience never-to-be-repeated. Tanzania is home to an incredible variety of animals, from the majestic giraffe to the diminutive dik-dik. Either way, your wildlife safari holidays in Tanzania will deliver something unforgettable.
Tips for enjoying your wildlife tour
Here's how you can make the most of our Tanzania luxury safari packages:
Wildlife safaris are unpredictable, and sometimes, the animals can be elusive. Patience is a great companion for you.

Appreciate little things. It's exciting to see a lion or an elephant up close, but don't forget to enjoy all the other incredible sights and sounds of Africa.

Have fun! Take it all in, and let remarkable memories last for your lifetime.
Kilimanjaro Vikings will take care of the rest, including your unsurpassed comfort, safety, and once-in-a-lifetime vibes. Book your wildlife adventure today!